France
French Love of Food
On August 28, 2016 by admin
The French love to savor their food and wine and don't treat eating or drinking as an inconvenience. Perhaps this explains their long-established flair for preparing food and creating dishes, too. Eating is usually a social event in France, rather than a purely functional one.
French food has a reputation for being fancy, and some of it is, but in French households people tend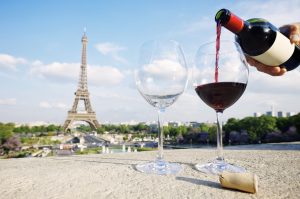 to eat simply. Rather than piling food up on a plate, there will often be several simple courses comprising two or three ingredients. Usually a meal will be accompanied by a freshly bought baguette, and there may well be a cheese course before dessert.
Here are some of the more famous French dishes:
Croque Monsieur: a classic toasted cheese and ham sandwich

Quiche Lorraine: cheese and bacon egg flan popular worldwide

Coq au vin: braised chicken in red wine, lardons and mushrooms

Soupe à l'Oignon: French onion soup topped with gratinéed cheese

Escargots de Bourgogne: baked snails served with garlic and parsley butter

Clafoutis: a popular baked dessert usually packed with black cherries

Crème Brûlée: dessert with a creamy custard base and hard top layer of caramel