France
Paris: The City of Light
On January 25, 2017 by admin
Paris is often called "The City of Light", which originally referred to its leading role during the Age of Enlightenment in the 18th century. During that time, Paris was a center for radical philosophic and scientific thinking, challenging the accepted ideas of the day.
The City of Light nickname took on a more literal meaning during the early 19th century, when Paris began lighting its streets with gas lamps to spectacular effect. Today, the name is perpetuated by the many illuminated buildings and monuments in the city; they number about 300 in total.
With its rich and bloody history, Paris is endlessly fascinating and rewarding to explore. For the reasonably fit, it's quite easy to walk, but it's also well served by buses and the metro system for those wanting to save their energy. Here are five lesser-known places worth visiting:
Arènes de Lutèce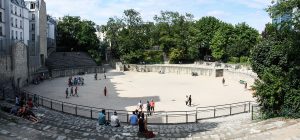 Evidence of Paris's early Roman rule is found at the Arènes de Lutèce in the 5th arrondissement of Paris. Tucked a little out of the way, this Roman amphitheater is now a popular place for locals to eat their lunch during summer months or for children to play football.
29 Avenue Rapp
Jumping forward nearly 2,000 years from the Roman arena, 29 Avenue Rapp is from the Art Nouveau period. What you'll be looking at here is the incredible doorway, which was created by French architect, Jules Lavirotte, in 1901 as a showcase for his work.
Musée Rodin
The Rodin Museum in Paris is hardly a secret location, but is inevi
tably less seen than the city's larger art museums. This is a delightful place to visit, even if you economize by only walking the sculpture garden. From 1st October to the 31st March each year, entry to the museum is free on Sundays.
Printemps Rooftop Terrace
Possibly the least known place in Paris for a panoramic view is the terrace café of the Printemps department store in the 9th arrondissement. Here, you get 360° views of the city and can enjoy spotting iconic Parisian monuments and buildings from afar.
Arab World Institute Building
The Arab World Institute is housed by an amazing example of modern architecture. Particularly notable is the southwest glass facade of the building, behind which are 240 photo-sensitive apertures that open or close automatically according to the current intensity of sunlight.